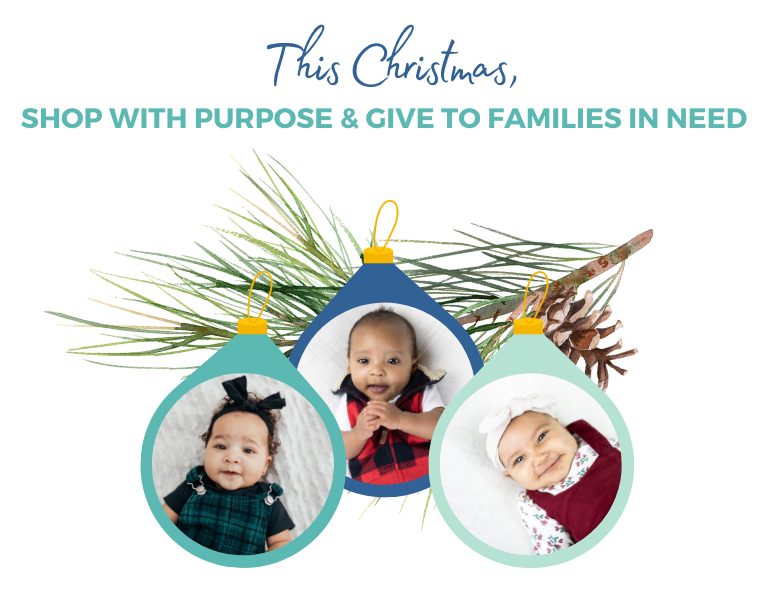 The Impact
Every month, Embrace provides material support for an average of 50 women and their families. This year thanks to generous donations, that will amount to $98,000 in support for moms and dads in Wichita! Parents earn items by attending one or more parenting classes over the course of 6 weeks. The class provides clients the opportunity to learn relevant instruction equipping them to pursue the full and abundant life God has in store for them. Each client has a unique story but they share a common need: to have a personal relationship with their Savior. Help us share this message by stocking the closet for our clients!
How It Works
The first step is to contact Embrace with the number of ornaments you'd like. We suggest you estimate for one per family unit and we can always bring more if you run out. To start the campaign, simply decorate a Christmas tree at your church, hang the ornaments provided, and let the congregation know it's time to go shopping. Church members will take ornaments home (or use our online lists) and return items unwrapped to the church. When all items are returned, your church can either deliver them directly to Embrace or we can arrange to pick them up after the first of the year
Shopping online? Add Embrace to your Amazon Smile account and support the ministry with every purchase!

What To Buy
Check out the wishlists from the store of your choice below or reference the Manger Tree Needs List for convenient shopping. Questions? Contact Patty at 316-945-9400 or email plewis@embracewichita.org. Happy Shopping!
To download this video for use in your church promotion, click here.
Social Media Posts